NEWS
East-Terra hosts meeting between Indy Chamber and Chinese investment delegation and several groups associated with economic development in Indiana
In July, 2016, East-Terra hosts meeting between Indy Chamber and Chinese investment delegation and several groups associated with economic development in Indiana. Represented at the meeting was US Congressman Andre Carson, Indiana Governor Mike Pence, EmployIndy, the Indiana Economic Development Corporation (IEDC), The International Center, Purdue University School of Engineering and the City of Indianapolis.
Together we successfully brought the investment of $5million to Indy and the creation of no less than 30 good paying technician jobs to Indy's east side.  We are blessed to enjoy the support of our business community.  It's a win-win scenario.  We increase Indiana's plastics recycling rates while decreasing landfilling of perfectly recyclable materials. The expansion will double East Terra's production and storage capacity to allow us to meet the growing demands of our customers who are typically plastic product manufacturers.
East-Terra hire Veterans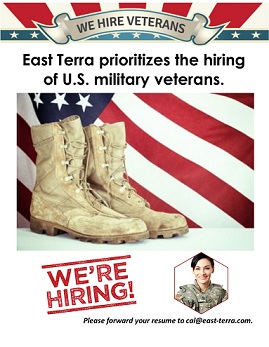 East Terra becomes Major Sponsor of the Marine Corps / YMCA Toys for Tots Program
East Terra is proud to be a major sponsor and donor for the annual Toys for Tots campaign bringing toys and gifts for children who may not otherwise enjoy the Christmas season. Jay Chu, owner, has appeared in commercials each year with the governor, mayor and Congressman Carson. We encourage our friends and colleagues to support this awesome program hosted by the Meadows YMCA.
Welcome to East -Terra Plastics
powered by zero-waste technology












East-Terra Plastics, with an advanced recycling technology, and fully equipped 150,000 square-foot plant, is capable of processing both post-industrial and post-commercial plastics. We can wash, separate, dry, shred and grind virtually any type of plastic. We buy, sell and toll grind plastics. We handle storage, logistics and processing so our clients can save money, increase revenues and have fewer headaches. We are located strategically at the "Crossroads of America" making logistics fast and affordable.

Also, as one of the few companies in Indiana equipped with an advanced waste washing, sorting and drying system, we can clean materials before processing them. By removing foreign materials through this state-of-the-art process, we are proudly helping our clients to increase the value of their materials while reducing waste. We get "dirty" so our clients no longer have to.

READ MORE